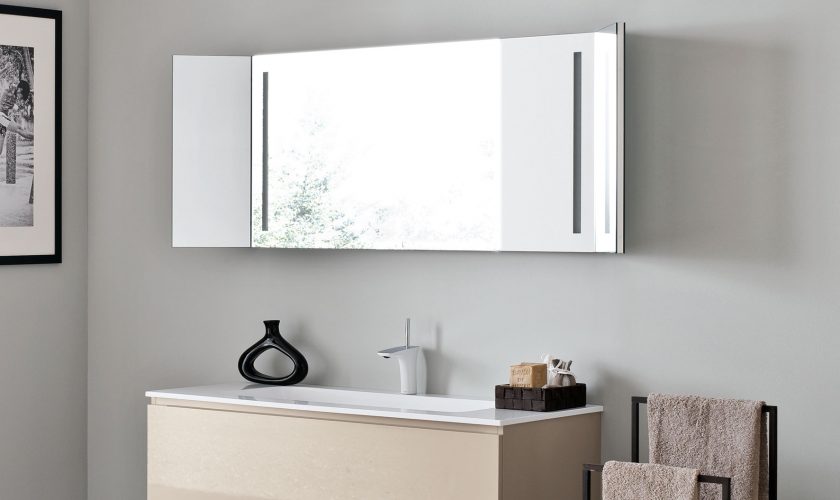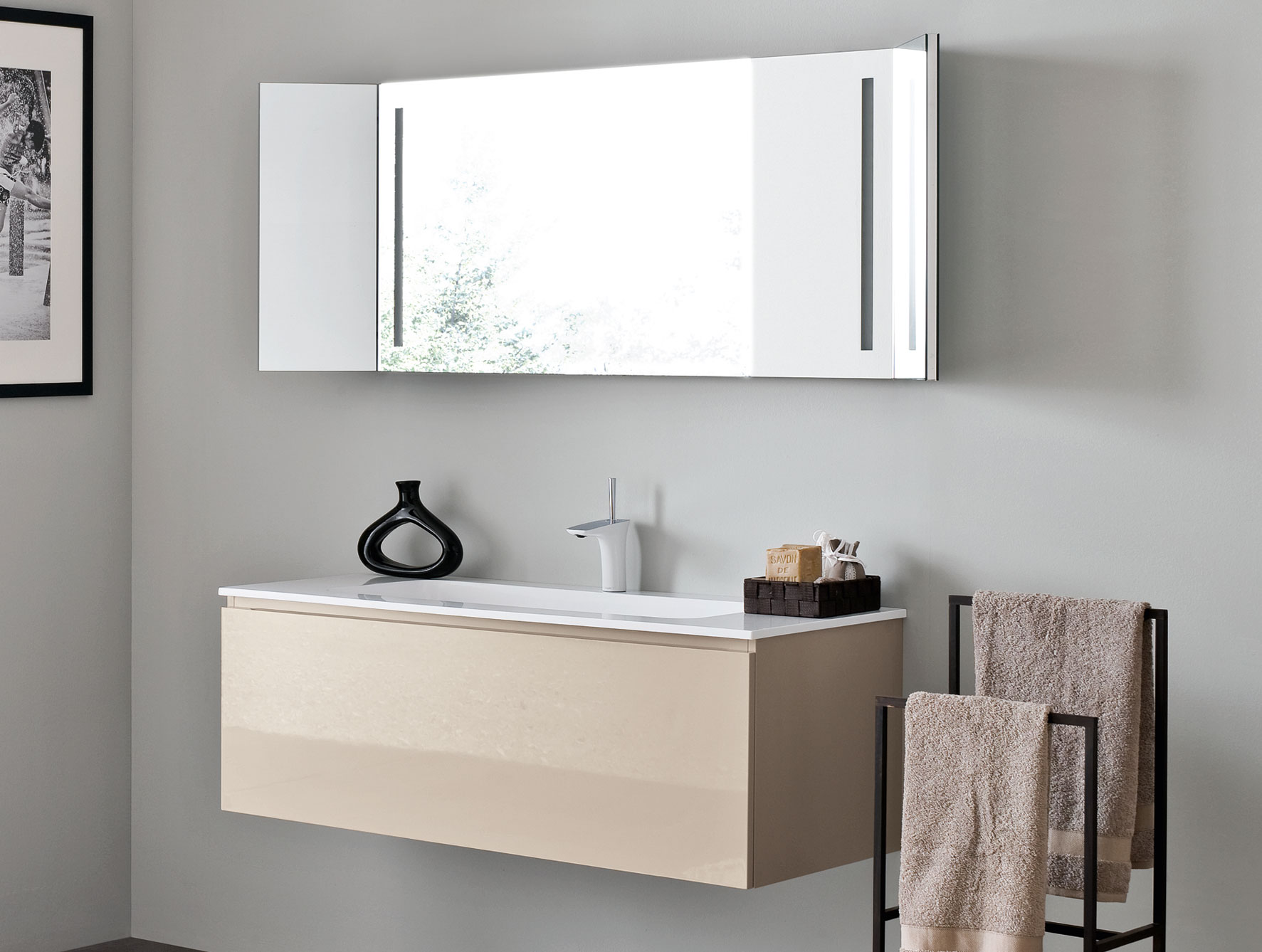 Floating bathroom vanities have all the storage options of typical cabinets, but since they are wall-mounted, they offer a completely new take on space efficiency. You'll never know how valuable floor space can actually be in a bathroom until you've had a sleek, stunning floating vanity installed!
Nothing encapsulates the unique aesthetic of a modern bathroom quite like floating bathroom vanities. Possessing all the useful qualities of great bath cabinets, while boasting a stunning modern appearance that frees up ample wall and floor space in any bathroom, wall vanities are the ideal functional and decorative addition to any bathroom and are crucial components of a contemporary bathroom remodeling project.
You will find a remarkable selection of wildly unique and breathtakingly beautiful bathroom vanity cabinets suitable for mounting on any wall. Like any work of fine art, these pieces will create a palpable aura of sophistication and class in your bathroom. And of course, they also facilitate a number of common bathroom tasks, from hygienic washing to ample toiletry storage.
Made of either high-quality manufactured reclaimed wood or natural and organic oak, these wall-mounted floating bathroom vanities are sure to last a lifetime of use and can withstand even the most humid master bathroom. Just mount the vanity to any wall using the included hardware and you will have not only a good-looking cabinet, but a truly high quality piece of furniture that will be a major component of your home's design for years to come.
We boast a large collection of great wall mounted floating vanities from a number of reputable manufacturers, and some of these furnishings are actually totally unique to Tradewindsimports.com – you won't find them anywhere else! Whether you are looking for single sink vanity or double sink vanity styles, modern or antique vanities, you will surely find what you need in our extensive catalog. The floating bathroom vanity of your dreams can be found right here!
Some of our most popular wall mounted models are modern bath vanities. These are built to exude the intense yet simple beauty of the modern aesthetic, an aesthetic that values beauty in simplicity. But we also feature wall mounted vanity products with intricate, antique, and stylish floral designs that will impress anyone with a taste for the complex beauty of the more traditional aesthetic.
Each vanity cabinet we sell is scrutinized under our rigorous standards for quality, affordability, and overall style. Any vanity purchased through us will surely last a lifetime. So take a minute to peruse our collection of floating bathroom vanities; we are confident you will find something that piques your interest. You can contact us with any and all questions or comments at our customer service line.
The floating bathroom vanities have become remarkably widely held since they are stunning and have unusual determination while still being useful. It creates a very forward look and tricks the eye into observing that the bowl sink is floating on the top of the counter with water stirring into it. Some of Floating vanities furniture comes in very modest designs, with fair one or two drawers and an extended flat sink top. This way of a progressive bathroom design is yet more and more useful as the furniture performs as a central point for the visitor bathroom or second bath.
Floating Vanity, standard vanities
Floating Vanity: Standard vanities stand flat on the floor with a sink and, typically, a mirror at the counter top. But, the bathroom cabinets on floating bathroom vanities are wall mounted and certainly not touch the ground. You can select them in some types and styles, several of vanities have one or two bathroom sinks attached, with a mirror over both faucets. A floating bathroom vanity has a glossy, contemporary expression but escapes flattering rapidly dated by its basic look. An affordable selection of Fresca, Virtu USA, Tonusa and Silkroad Exclusive Floating Vanities is very well made and great built-in storage units to make the most out of your space. These cabinets are made to fit perfectly with floating sink vanities line of wall mount sinks and normally take 1-2 weeks from time of order.
Choosing a Floating Bathroom Vanity
If you choosing a Floating Vanity, both single and double Floating bathroom vanities will give you with an organic look and even discounted a piece of new day design. Floating vanities occasionally contain traditional lines with brave design and white, black and travertine colors. It's generally a useful idea to pay a bit of supposed to the up-to-date trends, but choose the stale that you feel almost happy with and that you closely like. The last thing you need is to be stuck with a bath that you have to refashion again in a couple years or that you don't like.
Additional varieties of Floating vanities include stone Floating Bathroom Vanities as they show a clean color without bold wooden finishes and compliment well with marble or granite sink tops. You have the choice to decoration as artistically as you wish while adding your own impression of fashion. Floating bathroom vanities can be finished with durable and stylish wood texture to provide water resistance and to improve the attendance of the wood.
Sink Cabinet
There are a certain things that are considered a must in almost every contemporary home and while we may not worry excessively about bathroom design when planning for a new home, it is still important to get it right. While the living room and the bedrooms might take up most of your planning time, one must not forget that designing a bathroom that seems like a natural extension of the rest of the home is a must to ensure that you have a complete house which has a single flowing theme.
A sink and cabinet underneath are generally considered as mandatory part of every bathroom and this is exactly where you can make an individual choice that is custom fit to your residence and will serve you well. Floating sink and cabinet designs are all the rave currently thanks to the many advantages that they offer. We bring you here a varied collection of floating bathroom sink and cabinet combinations that will help you in making a more informed choice.