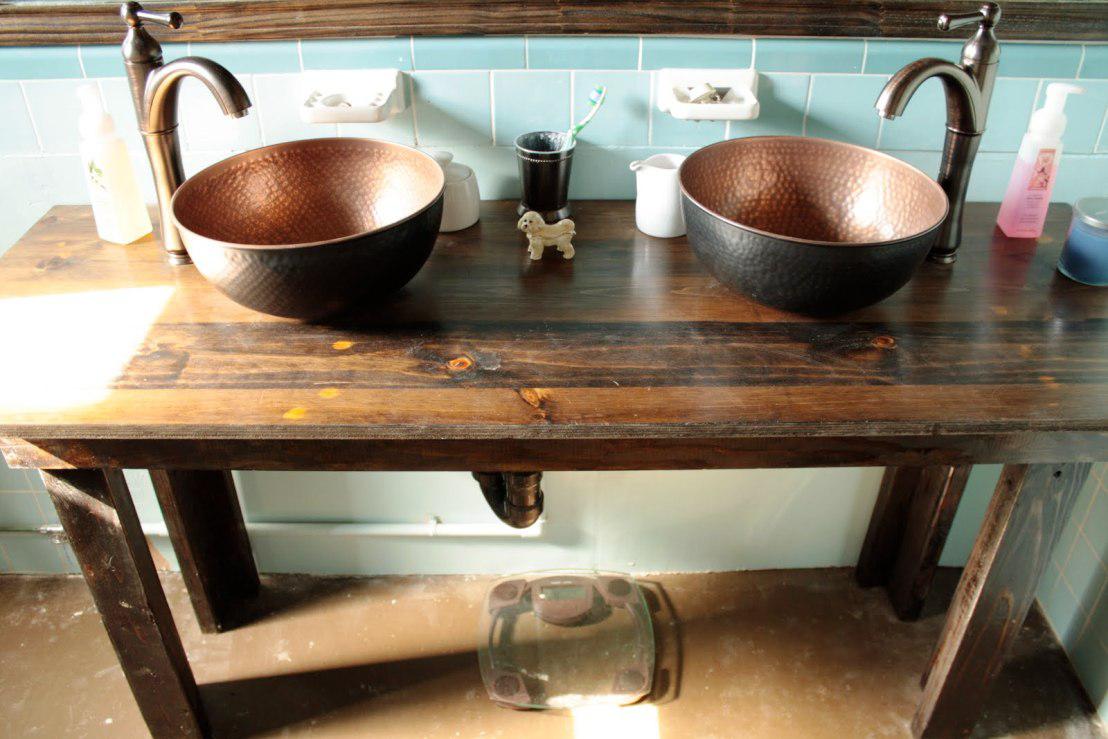 It is given that we are entitled to our own concept and ideas in designing our homes. In such way, bathrooms can be designed and adorned with varieties of styles that would go well with our taste. But let's just say that you're the type of person that really loves to bring natural touch – unrefined, simple, and bucolic – to decors and materials, well then I suggest you to choose a rustic decorating style for your bathroom.
Rustic embellishing is more like of using woods – the art of re-purposing and reclaiming, combining with stones, rocks and bricks – providing a bold and strong connection. In this way, to make certain with your style never forget to accent your bathroom with furniture that has an impeccable sense. There are lots of furniture that can be used to adorn your bathroom – one of which is the bathroom vanity. Since its primary material is wood then it would be a perfect ornament for your rustic appeal bathroom.
When shopping for rustic bathroom vanities online, be certain on your maximum allowable dimensions. This is the biggest constraint for most bathroom remodel projects. If you are replacing an existing vanity, then you need to search for a vanity with the same sink and faucet configuration if you want to minimize plumbing updates. If this is a more extensive remodel, in which you will have your walls open, then you will have more options if you can update your plumbing configuration. The largest dimension on most vanities that include the countertop attached is the countertop.
Premier Copper Products
The hand crafted items offered by Premier Copper Products will add style as well as great function to the bathroom. The sink bowls created by Premier Copper Products are as great to use as they are to look at. The material used in the manufacturing process is an element that has a natural beauty as well as amazing durability. The collection offered by Premier Copper Products also include towel racks, lights and light switches and essential plumbing parts.
Native Trails Rustic Vanities and Sinks
Native Trails creates a wide range of unique styles for the bathroom that will add beauty and functionality. The pieces offered in this collection are made by artisans that care about the environment and make things in a sustainable process. The wood and copper used in the creation of these pieces are made with reclaimed materials, saving them from being wasted in a landfill and putting them to good use within these useful products.
Copper Sinks
A sink made with copper material is a great choice for the bathroom. Not only does this material have a warm natural patina, it is also very durable. With proper care, a copper sink will last for many years to come, always looking wonderful. In this collection of copper sinks, some are covered with a nickel finish, giving a silver tone to the piece while maintaining the durability.
Farmhouse Sinks
The old farmhouse apron front sinks have become quite popular among designers and builders these days. This style is a nice way to allow the natural beauty of the sink material to show and become more a part of the décor. The selections shown here are made of copper or nickel plated copper material that has a rich tone and is a durable metal that will hold up well to the heavy duty work in the kitchen.
Copper Mirrors
The copper metal and tone that create the frames around these mirrors has a warm tone that compliments the silver of the mirrored surface. There are many different styles and sizes to choose from among this collection. Each piece is made of high quality material and will be a welcome addition to any room, not only for the beauty of each piece but for the functionality that they will bring to the room.
Cabinetry And Vanities
If you want closed, hidden storage, then a cabinet or a vanity is your choice, it helps to visually declutter the space. It may be a reclaimed wood vanity with drawers and shelves, or a stained wood cabinet. You can take an old sideboard or table and repurpose it into a cool vanity with drawers changing handles. If you've chosen shabby chic style, it will be especially actual, and you may whitewash the piece. If you want a modern flavor, then you can make a reclaimed floating vanity, which will still add a cozy touch. Open shelving is useful for storing towels, soaps and other stuff. If you have a small bathroom, don't go for a double vanity, make a small reclaimed wood cabinet with a sink on top and just some storage space or a drawer.
Open Vanities And Shelves
An open vanity is another great idea, it's especially great because it looks more lightweight, and this is essential for a small bathroom, though it can be cluttered a little but you can handle it. An open vanity can have two or three surfaces for storing, and you may place there everything you want. For a shabby chic feel, you can cover the vanity with patina paint, or give it a worn look. For an industrial flavor, you can use pipes for legs or handles, and a stone or a concrete countertop will make the vanity modern. If you want to make your storage comfier, you can also place some baskets for storage on these shelves.