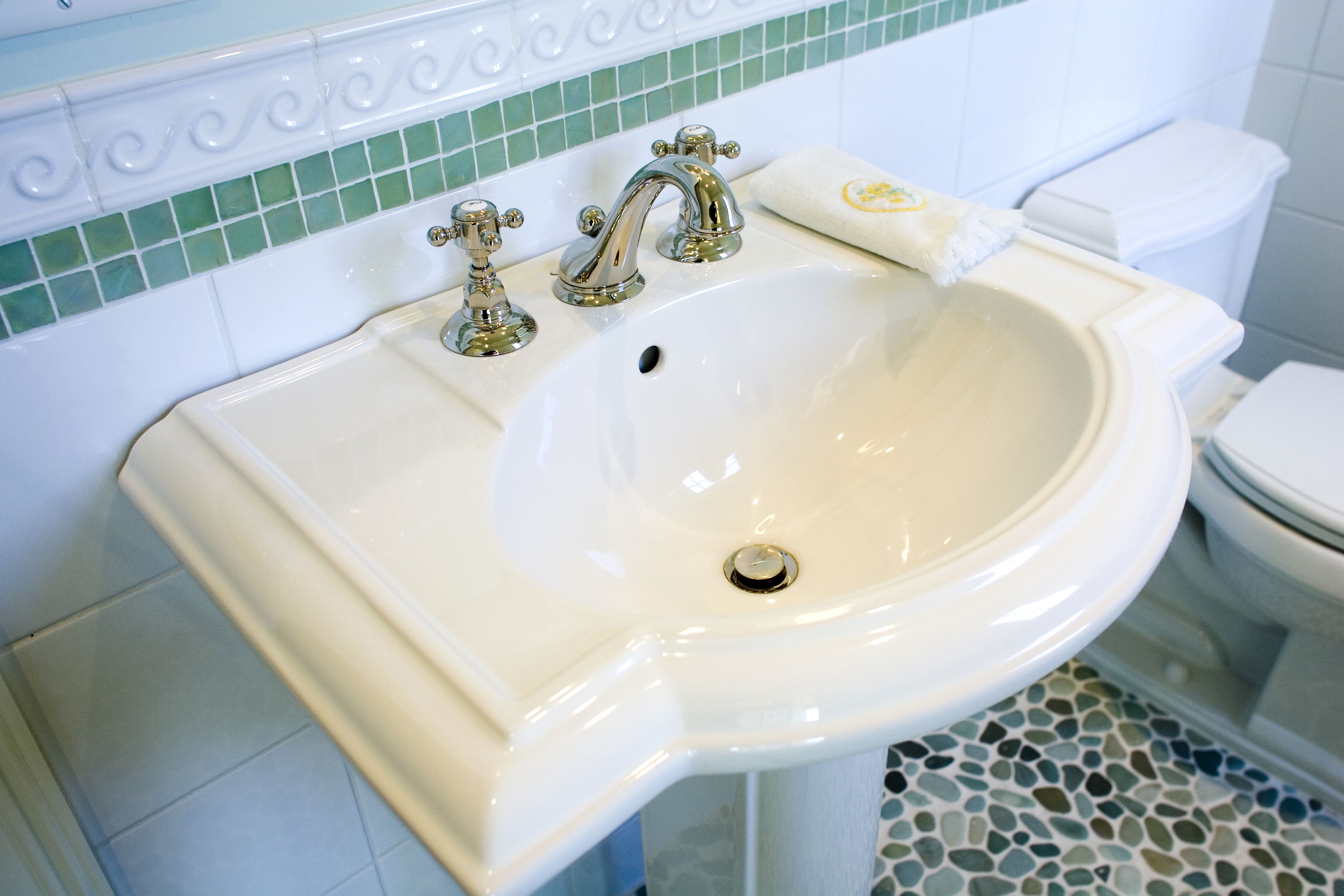 A pedestal sink is the perfect bathroom sink that combines traditional and contemporary design. Iconic images of pedestal sinks with black and white penny tiled floors conjure up days gone by; however, these beautiful sinks also look striking paired with modern décor. The signature look of pedestal sinks is a long thin porcelain base that supports a deep and wide basin. Pedestal sinks do not have cabinetry or ornamentation, which makes them one of the leading sinks in modern design. Another great benefit of pedestal sinks is that they are one of the best-designed sinks that come at an affordable price point. These functional and elegant sinks are not only affordable, but they also take up very little space. If you have a small bathroom and you would like to add a stylish and affordable flare, then try designing with a pedestal sink.
Not only does a Pedestal Sink save you time and space in your bathroom or powder room by not having to install a vanity, but it also looks great. Choose from a wide variety of contemporary pedestal sinks and traditional pedestal sinks to match any style of home. If you are unsure of which manufacturer to use you can also check out Barclay pedestal sinks and American Standard pedestal sinks.
Pedestal Sink Basics
Pedestal sinks are composed of two pieces: the pedestal (i.e., the "leg") and the sink basin. Many homeowners are surprised to learn that pedestal sink basins are supported by the wall as well as the pedestal. The wall behind the intended sink location must be strong enough to support the weight of the basin. Also, the supply and drain pipes must enter the sink from the wall rather than the floor.
Why Choose a Pedestal?
Pedestal sinks are better suited to some types of bathrooms over others. For starters, they work perfectly in any bathroom where space is limited. This includes half baths and powder rooms. Baths that aim for a period style also can be a great fit for a pedestal. Many new pedestal sinks are modeled after traditional styles, offering an authentically vintage look in a new unit. But regardless of the style, pedestal sinks give your bathroom an airy, open look, in contrast to the bulk of a vanity cabinet.
Why Not Get a Pedestal?
The clean, airy look of pedestals comes with a significant drawback: no counter or storage space. Many pedestal sink basins have very little flat space for setting down a razor or makeup. This makes them a poor choice for busy family bathrooms. Some models do offer limited "counter" space via an apron around the basin bowl.
Square sinks usually feature the largest aprons. As for storage space, there is none. Anything that would be stashed in a sink vanity cabinet has to go in a separate cabinet or closet or in a medicine cabinet above the sink. If you're considering switching from a vanity and sink to a pedestal, keep in mind that you may need to replace the flooring, baseboard, wall covering, etc. behind and underneath the vanity space when the old vanity comes out.
Some Tips
Before installing a pedestal sink you may need to relocate your plumbing or level off your existing bathroom floor. It is important that the neck of your pedestal sink holds your plumbing and that it stands on even footing. If the floor is uneven then it cause result in water catchment issues in the future.
Decorating a small bathroom takes a certain attention to detail. If you are looking to combine both style and functionality in a space, then a small pedestal sink may be the perfect option. Although small pedestal sinks lack storage space, their elegant neck and basis can transform a small dull bathroom into an inviting washroom. Small pedestal sinks can be great for children and elderly as they will oftentimes be shorter.
If you are looking to make a rare statement in your bathroom, then you can decorate with a wood pedestal sink. These pedestal sinks bring outdoor materials inside. The wooden bathroom pedestal sinks combine a natural base and a stone basin to make you feel like you are drinking from a natural spring.
Traditional pedestal sinks have rich embellishments across the basin and the stem. You can find both beveled surfaces and decorative surfaces that bring an elegant texture into your home décor. Pair a pedestal sink with black and white bathroom tiles to create a vintage design.