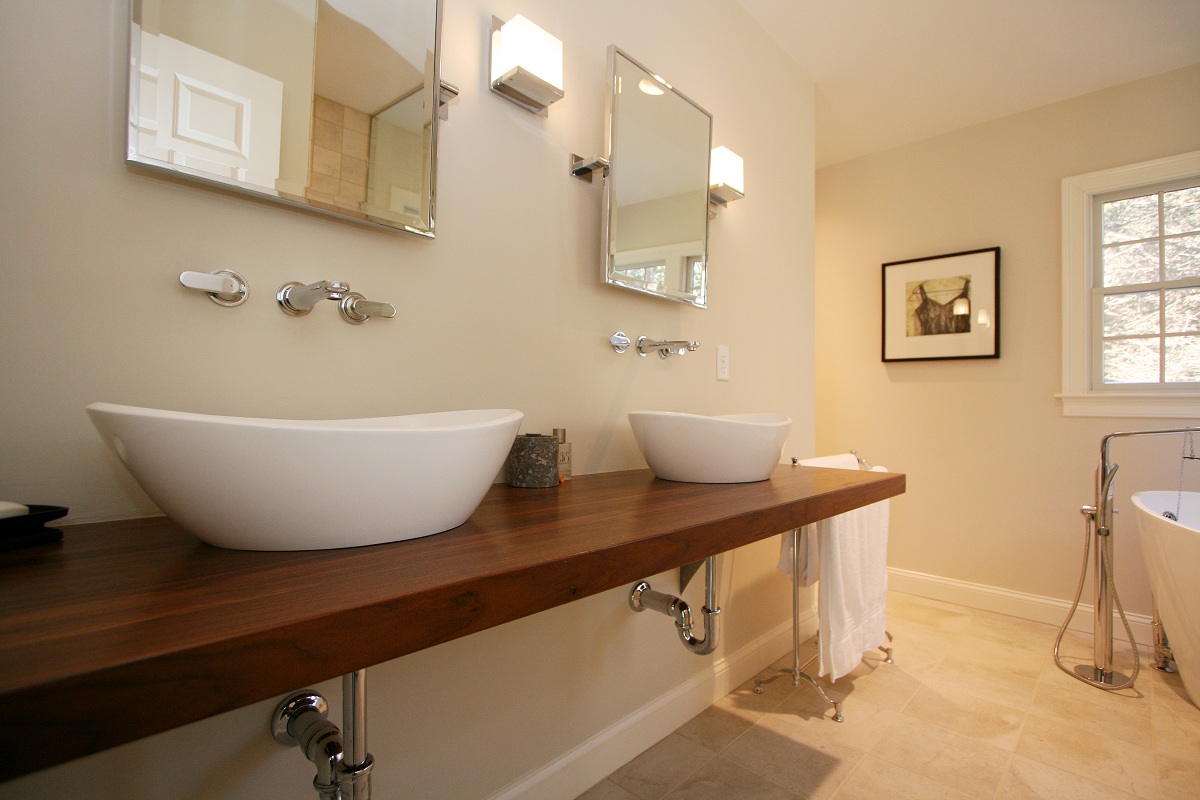 Vessel sinks, also known as bowl sinks, are free standing sinks that are mounted directly on top of your counter. We have hundreds of vessel sinks for your bathroom, kitchen, or powder room in a dozen different finishes, materials, shapes, and features. Read more to learn about how vessel sinks work and why you should get one!
Why Should I Get A Vessel Sink?
A vessel sink is not molded through the counter, therefore it can come in many more styles, colors, materials, and sizes than undermount sinks do. Vessel sinks are also much easier to swap out and they're easy to install. Bathroom vessel sinks are versatile and can be found in modern, coastal, traditional, and rustic designs. Many people who choose a bowl sink in their bathroom like it for its "wash basin" appeal. Other than style and versatility, bowl sinks are comfortable! They rise anywhere from two to six inches above the counter so you don't have to bend over as much when using the sink. Vessel sinks are spacious and can save you precious counter top room!
How Do Vessel Sinks Work?
Vessel sinks do not need any special plumbing, and yes, they do have an overflow. The overflow is engineered differently in vessel bathroom sinks because the channel that the water flows through is hidden within the sides of the sink, so you can't see it. Not every vessel sink will have an overflow. In short, vessel sinks work and drain just like standard sinks, but they're installed differently. A channel lock plier and some silicone sealant are usually the main tools you'll need to install a vessel sink.
What Size Vessel Sink Should I get?
It's all personal preference! Think about who will be using the sink. Shorter adults and children may have a harder time using the sink if it's too high, and tall people may find it uncomfortable if it's too low. The size, width, and height of your vessel sink will depend on how much counter space you have and where you can install a mirror and vanity in proportion to the sink. If you're also in the market for a new vanity, then the size of the vanity will also vary depending on the members of your household and their preferences.
Are Vessel Sinks Sturdy Enough For Children?
This depends on how well and tight the sink was installed. Vessel sinks are not the most practical sinks for children as they are usually raised an average of four inches from the counter, making it more difficult for children to reach. Many vessel sinks are also mounted by sealant, and if a child happens to slip from their stool and pull on the sink, there's a possibility the sink can detach if it wasn't installed properly.
What Else Should I Consider When Purchasing a Vessel Sink?
The bathroom faucet! The faucet height will be an important feature to your vessel sink presentation. You typically have two options when it comes to the type of vessel faucet you can install: a counter top mounted faucet or a wall mounted faucet. Both work very well with vessel sinks and look great!
Wash Basins
We have a wash basin to suit every design and bathroom size. If you're fitting something in a small WC, check out our selection of cloakroom basins. Or, if you need more floor space in your family bathroom, try measuring up a corner wash basin instead. From ceramic bowls to black glass, we have it covered.
Bathroom Sinks and Vanities
There are several basic sink designs that can be configured to fit just about any bathroom style, from traditional to vintage to ultra-modern.
The first and most economical sink design is the drop-in sink. Available in a wide range of materials and styles, drop-in sinks sit atop a vanity countertop and incorporate a faucet into their design.
Another fairly inexpensive and common, space-saving sink option is the pedestal sink. These classic fixtures stand upright on a pedestal, and they are often made of porcelain.
For a mid-range budget, an undermount sink is a great option. These fixtures sit seamlessly in a vanity countertop, making them both stylish and easy to maintain. These sinks are available in a wide range of materials. Opting for a more expensive metal undermount sink can create great visual interest and add to durability.
Vessel sinks are considered a stylish, high-end and expensive option—these "floating" sinks sit like a bowl on top of a vanity countertop and are available in all manner of materials, from glass to porcelain to metal.