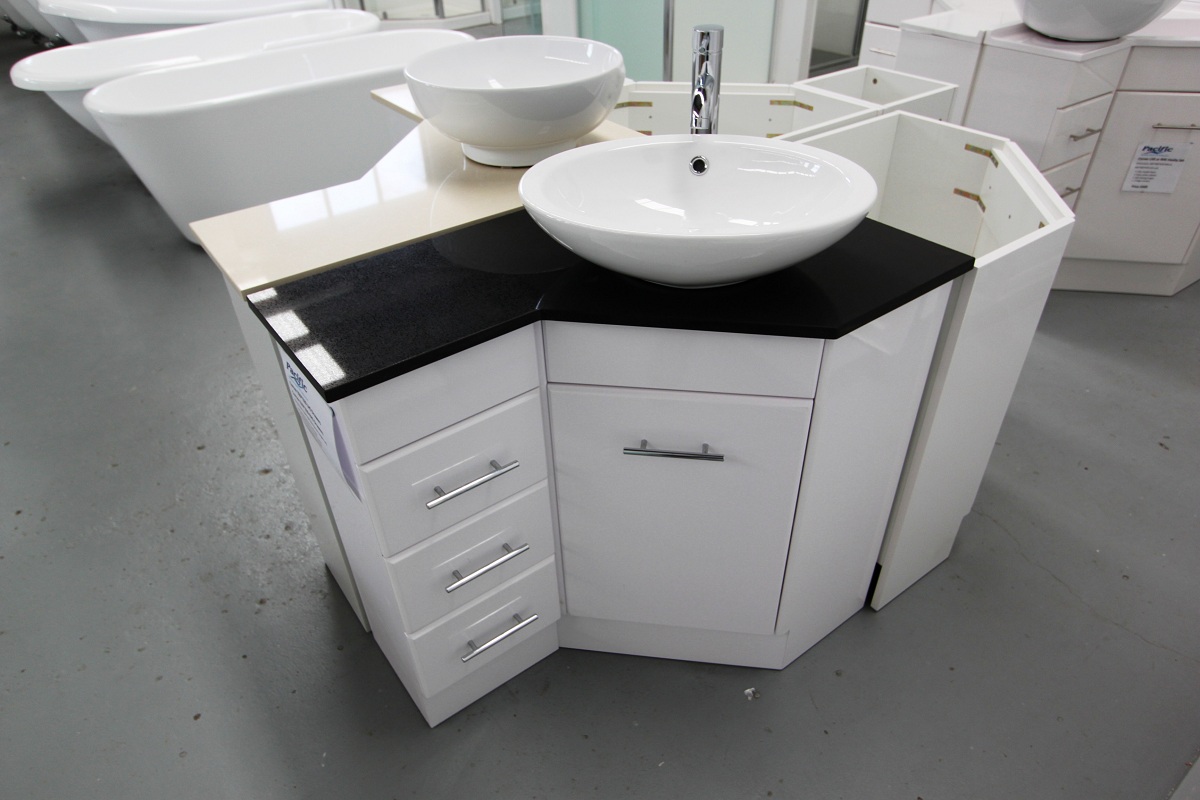 A bathroom vanity is a central element in any bathroom, as it provides a platform on which to mount the sink and a focal point above which you would typically hang a mirror. A vanity can also add storage space for personal items, provide a work space for morning routines or make-up application, and can keep bathroom essentials such as toilet paper close at hand.
Vanities come in a wide variety of styles, materials, and sizes to complement any bathroom space. From more square set ups that have strong angles, to sweeping scrollwork and intricate details on elevated pieces that may imitate a table or dresser, there are a wide range of styles, both in terms of vanity shape and decorative details. Other variations include vanities with classic wood cabinetry, sleek metal options, and wall mounted floating vanities that can add an ultra-modern minimalist touch. And no matter what size bathroom you are building or upgrading, there are variations of bathroom vanities that will suit the space. From compact options just wide enough to support a small sink for hand washing, to substantial installations with room for twin sinks, drawers, and cabinets all in the same piece.
If you have a half or full bath with limited space, corner bathroom vanities are a wonderful way to efficiently utilize the room. A corner vanity is shaped in such a way that you install the vanity into a corner of your bathroom. This is a great option for someone looking to save space and maximize functionality. Let's look at other important decisions to make when finding the perfect corner bathroom vanity for your home.
In terms of finish and material, you want to consider both for the top sink portion of the vanity as well as the base portion of the vanity. The base is often made of wood and comes in a variety of colors while the top portion can be made from stone, ceramic, and other materials. It also comes in a variety of colors. You want to pick an option that will fit the design of your home. If your home has a traditional feel, a more standard wood with a white top works best. If your home is modern, you can look at vanities with black tops.
If you are looking to purchase a corner bathroom vanity with a sink included, just make sure it says that a sink is included on the product page of the vanity you're considering. You should also consider the way you use your vanity. Do you use it for bathroom storage? It is great for materials such as toilet paper, toothbrushes, toothpaste, and cleaning supplies. As a result, you should take inventory of what you keep in your current vanity and pick out a new one that will allow you to store what you want. Vanities often come with either drawers, cabinets, or both.
Space Saving Bathroom Vanities
Our bathroom vanity units come integrated with either a toilet or a sink or both these ceramics. They provide you with a handy space-saving solution for your brand new bathroom. This is because you are able to have your bathroom storage directly underneath your sink or right by your toilet.
Built In Toilet or Basin
If you have quite a small bathroom or cloakroom in which you wish to integrate these, you can buy them with both a toilet and basin combined within them or just one or the other. This will help you save space and the hassle of trying to fit two components within a limited amount of space.
Vanity Units for your Bathroom
Looking for somewhere to store your bathroom essentials? Search no further, as you have found the very best range of bathroom vanity units with us at BathEmpire. We make all our products with a promise of providing quality, style and longevity to you every time you buy.
Hardwearing Design Features
We can achieve these aims because we pick only the most suitable resources for all our items, including our sink vanity unit range. Thick MDF boards comprise the frame of each vanity unit, selected as it resists damage well but also because it renders our basin vanity units extremely strong and sturdy.
High Quality Accessories and Fixtures
Our bathroom vanity units are full of delightful design advantages that serve to set our basin vanity units apart. No cheap, easily broken plastic handles will do for our bathroom vanity units and basins, as our handles are formed of stylishly brushed stainless steel that both look good and last.
Other small, though weighty, touches include Blum hinges, renowned for their durability and class, as well as soft close drawers on our bathroom vanity units. The latter prevents the drawers from accidentally slamming back into the sink vanity unit and damaging the frame, allowing your item to last longer than you anticipated.